Playing Red Dog At Bovada
| » |
The game of Red Dog is a basic Bovada table game that requires little strategy to play, Playing Red Dog is fairly simple. But there are a couple of things you can do to increase your chances a little bit. Every good US online gambler knows that every little edge counts when it comes to your long-term take. Check Out Bovada's Red Dog Tables
The game is played under other names like "acey-deucey" or "in-betweens". In the Bovada online casino it goes by Red Dog. The concept is simple enough. Depending on the spread of the two cards that have been dealt. Different odds will be paid out on the bet that is made, if the next card to be dealt is between the first two dealt cards.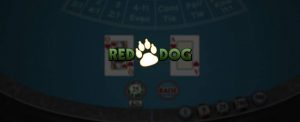 Acey Deucey allows you to increase your ante bet after the two cards have been dealt out. It's only a good idea to increase your bet on situations where the card-spread is seven or more. There is a big difference in winning percentage between the different spreads, and only after seven does it turn in the player's favor.
Spreads
A spread of seven cards gives the player a 54% chance to win the hand. While a spread of six drops that number down to only 46%. Five-card spreads only give the player a 38% to win the hand. Four cards provide a mere 30% chance to win.
If the spread is less than seven you should only try to win on your ante bet. Furthermore do not raise it up another one on smaller spreads. If you can follow this simple rule you'll maximize your chances of winning some money playing Red Dog. You won't always win on spreads of seven or more, but you'll win more than you'll lose over a big example of play.
Decisions While Playing Red Dog
Here is another decision you may be able to make before you start playing a game of Red Dog. Search for a game that has more decks in play. The more decks in play the better your chances are to win some money. And one should always decide to play at the right limits for their bankroll, so they can play when they want to without going broke so fast.
---